Flow monitor for simple and cost-effective monitoring
of a specific flow rate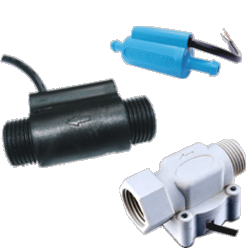 Our flow monitor permanently monitors the flow rate of a liquid. When a set value is reached, the integrated reed contact switches. This sends a signal (alarm) to your control system. This enables you to prevent a malfunction or failure of your device or system in good time. Our piston flow monitor is available for different flow ranges (from 0.1 to 10 l/min).
Examples of Flow Switches
The following switching points of the flow guards are for water at a temperature of 20°C.
We also offer other product variants.
You have questions about our products or
need a personal consulting?
100% Personalised advice
Bernd Jäger
(sales)
(Mo-Th 7:00 – 16:00 ; Fr 7:00 – 12:00)MEZ
No standby current
Inexpensive
Small and light
There are several ways to monitor the flow. Our flow switch is much cheaperthan other electronic sensors, but still very reliable. It is small, very light and cheap. Its switching contact is potential-free and it is energy-savingbecause it does not require a permanent power supply.
Pressure switches are often used to monitor water flow. The decisive disadvantage of the pressure switch is that it does not give an alarm when it comes to line narrowing or constipation. This is due to their operation, the indirect flow measurement. Our flow monitors, on the other hand, detect this safely, due to the direct measurement.
Our piston flow switch are available for different flowareas. You can also choose from a variety of media connections . Threaded connections or direct hose connections are available. You can also choose your desired connection cable in the appropriate length and optional with your plug,giving you the optimal flow switch for your needs. If you need further information about the possible options, we will be happy to advise you on this without obligation.
The flow switch monitors a minimum or maximumflow in your application at low cost, e.g. of cooling water. Its compact size makes it universally applicable. The internal piston is moved in relation to the flow rate against a spring. This results in only a small loss of pressure. The integrated Reed contact switches to a defined, adjusted work point . Due to its return spring, the flow monitor works largely independently of the position.
A pressure switch for Durchlussüberwachung is often used for cost reasons. However, this has a decisive disadvantage: in the case of a line narrowing or even constipation, the pressure sensor does not report an alarm because the system pressure is still there. However, our piston flow switch reliably detects such an error situation.
The flow monitor is available in various materials such as PA or POM. The flow switch point to be monitored is between 0.1 l/min and 2 l/min. You can define it almost freely. Liquids, such as water or low-viscous oils, as well as some gaseous media can be monitored. There are also various hose connections. Hose connection of G 1/8 ", G1/2" as well as a direct hose connection of6mm are possible. Our flow monitors have a small size, starting at 63 x 34 mm.