Suction pipe
with level monitoring
monitored liquid withdrawal from canisters
simple, reliable, appropriate
Process security for your device, because of integrated vacancy detection
low residual quantity in the container, thanks to a special float
in selectable sizes and mounting types, for perfect fitting in your container
integrated backflow prevent (optionally), for drip-free replacement

Save money, because it is maintenance-free and has a long service life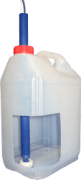 Integrated container empty notification
Immersion depth freely adjustable
Different hose connections
Function of the suction pipe
Our suction pipe are used to remove many liquids from dosing containers or canisters.
The integrated float switch also provides you with an empty tank monitor. It automatically switches off your dosing pump as soon as the level in the container is too low. The switching process of the suction lance takes place without contact, wear-free and without auxiliary energy.
This design simplifies changing the canister and you only need one canister opening. Thanks to the individually selectable length (up to 200 cm) and various container attachments, our suction lances can be used almost anywhere.
Examples of use: car washes, dosing technology, dishwashers, hygiene technology, industrial dishwashers, pool technology, cleaning machines, water treatment.
Further details on the structure, function and variants …
Here you can see an selection of our suction pipes.
By clicking on the product image or type designation you will receive further product details and technical data.
We also offer other product variants. We can construct also your individual suction pipe for a small budget. Just ask us.
Suction pipes
We can also design your individual suction pipe for your needs.
100% Personalised advice
Bernd Jäger
(Sales)
Do you need a personal consultation
or further product variations?
Suction pipes are used to remove liquids from dispensing containers. Due to the individually selectable length (15-150 cm), these are optimally applicable for different container sizes and always suitable.
The integrated level switch of the suction garnish offers a decisive added value here. It automatically switches off your dosing pump as soon as the level in the container is too low. The scope ranges from swimming pool technology (in the pool or swimming pool), chemical technology, dosing technology, printing technology and many more.
Timely container replacement
Our suction pipe have an integrated float switch (level switch) for level monitoring. With this, our product fulfills 2 functions in one: The suction function and the containers empty monitoring in a suction pipe. This saves you costs when purchasing and operating. You only need 1 canister opening and the canister exchange is much easier and faster. In order to ensure that the suction pipe does not run empty when the container is exchanged, an optional leak protection can be integrated.
Integrated float switch (Level switch)
Various tank fastenings, partly adjustable
Long service life, maintenance-free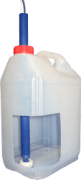 Our suction pipe have a long service life and are maintenance-free in operation. They are available in different lengths with different container mountings. Due to the integrated level monitoring a high process safety is achieved. As soon as the liquid in the container is empty, your device receives a message. A change of the container is then done quickly and easily, by the attachment chosen for your application. Here you can also choose between different variants, such as clamp, plug or screw version.
You will get the suction lance already with hose in your desired length, or can choose from different hose connections. To prevent the residual fluid in the suction hose from running out when changing, you can also get our products with an optional backflow preventer. All this allows a pleasantly simple handling with our suction lances with level monitoring.
Modifications according to your requirements
You get our suction pipe in different variants with a level switch. We can also adapt these to your requirements. They are available in different diameters, from 22 mm to 36 mm, and in different lengths from 150 mm to 1500 mm. The assembly type can also be selected individually. So we offer you simple clamping fixtures or fittings. For some types of mounting, you can determine the immersion depth of the suction lance yourself. Alternatively, you will of course receive the suction pipe in your desired length. You get the suction hose either firmly integrated in your desired length, or the suction lance offers you a hose connection.
The suction pipe with float switch (level switch) is used for the monitored emptying of canisters or containers.
The integrated level monitoring reports the suction pipe when the container is empty. This ensures that your pump does not run dry. Changing the container or canister works easily and quickly, as only one unit is exchanged (suction pipe with integrated level switch). With an optional reflux prevention, this is also a clean and safe, as the suction pipe does not run empty.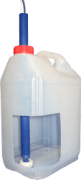 There are suction lance in different lengths (from 15 to 150 cm), with various connection and mounting options.
Optional additional equipment for our suction pipes:
sieve, for filtering out coarse dirt
Leak protection, for drip-free exchange of suction pipe
Our suction pipe are available in different versions with level switch. See our product examples. We can configure these quickly and cheaply to suit your needs .
Determine the following parameters exactly for your device:
Installation length: from 15 to 150 cm
Type of fastening: Clamping, plug-in or screw version
Material: PP, PE, others on request
Suction hose: firmly integrated or hose connection
Electrical connection: Cable length and plug as desired
Additional options
You have questions about our products or
need a personal consultation?
Or call us directly in person
+49 (0)6108 7001-0